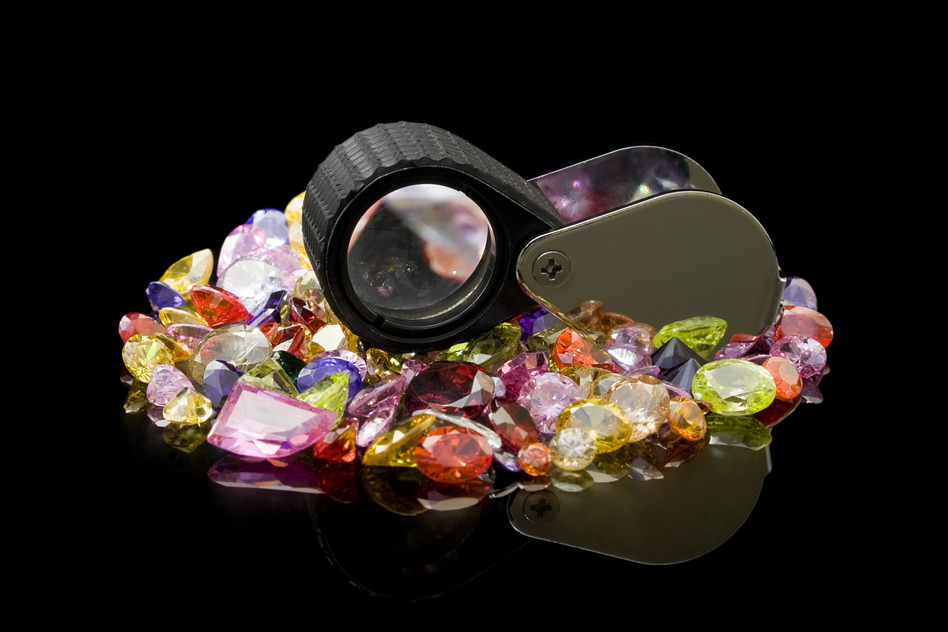 The Ultimate Guide To The Best Jewelers Loupe
A Breakdown of The Best Loupes For The Field & at The Bench
Looking at crystals through 10x magnification can be mind blowing for some. Or… I may geek out to gems and minerals a little more than most.
My first experience with a loupe *pronounced loop… was while working at a diamond retailer and studying for the Diamonds and Diamond Grading course at the GIA. At this same time I joined a mineralogical society and quickly realized that I had a passion for looking at rocks through my loupe.
They will never look the same again.
I don't remember the brand of the first one I used, (it was a rather nice one that was on hand at work) but I do recall blindly making a purchase for one around 20 bucks. It was a plastic loupe that had an LED light and came with a lanyard *what a deal…
Many loupes later I have learned so much about them. You can get along with cheap loupes just fine or throw down some serious cash and get the lap of luxury version. You do you… Instead of purchasing a jewelers loupe on the fly – here is a break down of everything you could possibly want to know about the best jewelers loupe on the market down to the cheap plastic kind with the fun LED light.
Don't have the time to read? Check out my recommended loupes:
What is a Jewelers Loupe?
So in case you got this far and you don't actually know what a loupe is – A jewelers loupe in plain terms is a handheld and sometimes folding magnification device for inspecting gemstones and jewelry amongst other things. Ideal magnification is 10x (10 times the size of the thing you are looking at) and is the industry standard for your viewing pleasure when it comes to getting up close and personal with gemstones and minerals.
*Side note on magnification – while going with higher magnification may seem like a good idea you should leave it to a microscope. The field of view in higher magnification is generally much smaller, distorts easier, and is difficult to keep stable in a loupe.
For gemological and jeweler purposes, which technically I am discussing here – you want to stick with a 10x triplet loupe. Triplet is referring to the amount of lenses in the loupe three to be exact.
Why do I need three lenses? Glad you asked…
There are single, double, and triple lensed loupes on the market. The single and double lenses have their places in different applications but for all intents and purposes three is going to give you the money shot… The three lenses are corrected for color, reflection and light giving you a sharp image in a crisp edge to edge field of view without distortion. Some technical terms used for these lenses are achromatic and aplanatic.
The optimal three lens design that is still used today was designed by Charles S. Hastings an American Physicist in the late 1800's. A lot of loupes use Hastings in their product name but Bausch & Lomb was the original company to market Hastings loupes in the early 1900's and their quality loupes are a popular favorite today. Just because a company uses the term Hastings does not mean it is a quality loupe. It means they are referring to the triplet or three lenses in the loupe and says nothing to the quality of the optics.
Whether you intend to view gemstones, minerals, or hallmarks on jewelry – when choosing the best jewelers loupe for you the most important considerations should be magnification, optical lens quality, size of field of view and durability depending on application – in the field, the bench, or showroom.
Do I need an illuminated loupe?
Short answer – No.
An illuminated loupe is not necessary; however, there are benefits to having an LED or UV lit loupe that should be considered. Direct illumination from an LED loupe will eliminate shadows and is helpful when you are unable to control your light source such as outdoors. If there is a need to check for fluorescence a loupe with a UV light is the way to go. To light or not to light is mostly up to personal preference depending on the loupes intended use.
There are a myriad of loupe manufacturers and loupe types on the market so it would be difficult to cover every single one. For the purposes of this guide I am covering the top brands that should be considered when looking for the best jewelers loupe, whether this is your first loupe purchase or you are a professional looking to upgrade. The only loupes in this guide will be 10x Triplet pocket loupes (I'll touch on dark field loupes in another post)
The Jewelers Loupe Lowdown
First lets start with the loupes that just don't make the cut. Don't waste money on the $3.00 loupes or no name brands you may see on amazon and ebay. Really there is no point. The optic quality is crap. Also bear in mind that most of these cheap loupes are singlets or doublets even if they aren't advertised that way. If the manufacturer does not mention triplet it most likely isn't, so don't waste your time.
Lets Dive Into The Top Loupe Brands
#7 GemOro
Sitting in last place on my list – GemOro barely makes the cut as my pick for a cheap loupe. GemOro has several types of loupes on the market ranging in price from around $10 to $40 dollars. They have a range of illuminated loupes in several different colors. Stick with black or chrome. I don't care what your favorite color is – If you are planning on looking at diamonds and gemstones and use a pink loupe don't be surprised to find the pink interfering with your perception of color.
The best cheap bet with this company will be their 10X GemOro Black Hastings Triplet Jewelers Loupe 18mm (Not to be confused with the superior Hastings loupe by Bausch and Lomb ranking much better on my list). You can find these loupes at most jewelry supply stores but you will likely get a better price on amazon just under twenty bucks. (most of the loupes on my list can be purchased through amazon at a slightly lower rate then some jewelry supply businesses)
This is a good loupe to get if you frequently lose your loupes, or for taking out in the field on prospecting trips. Made in china – ok optics with an 18mm field of view. It has a rubber grip and comes with a leather case. Not a bad first loupe, but definitely not cutting the mustard when it comes to lens quality.
Before getting into the rest of the list, note that there is a large gap in quality between #7 and #6. The rest of the loupes covered are of a much superior quality largely based on lens quality.
#6 Zeiss
Carl Zeiss, a name with a rich history in optics for over 150 years has provided the jewelry trade with some of the best lenses for loupes and microscopes over the years. The Zeiss name is synonymous with superior optics.
The modern day Zeiss 10x Triplet Loupe D40 may look like a cheap loupe due to its plastic casing but looks are deceiving. The plastic casing provides a better shock system for those of us with slippery fingers and two left feet and also makes this one of the lightest loupes. The standard anti reflection coating helps reduce glare and enhance clarity. This loupe offers a 13mm crisp field of view (smaller than most)
The Zeiss loupe is one of very few loupes that actually comes with a users manual (should you buy it new) It however does not come in a leather case like most other decent loupes and does not have an easy spot to attach a chain or landyard. At a hair over or under $100 bucks depending on where you purchase the Zeiss 10x Triplet it is a fantastic loupe for gemology, field work, and jewelers.
The Swiss Axe Triplet Hawk boasts being the new standard in optical performance. I have only had my hand on one of these a couple of times and I can say they have no need for modesty. With an award winning ergonomic design, sleek leather case for both loupe and lanyard, and its superior optics this loupe is fantastic. Swiss Axe says "you will be looking at diamonds with the sharp focus of a Hawkeye" and this is the case.
The Triplet Hawk is constructed of aluminum with a scratch resistant coating and click lock. The Hawkeye distortion free field of view is 21mm with anti reflective coating. If you purchase the loupe directly from Swiss Axe you can even have the loupe, lanyard and case personalized. Making this a superb gift for gemologists.
Ok now that I have told you how wonderful the Swiss Axe Triplet Hawk is – you should probably sit down… This loupe may break the bank at over $400 dollars. You read that correctly, $400 smackers.
So why should you throw down that kind of cash for a jewelers loupe. It is a superb product; however, with other more affordable quality loupes on the market it is really left up to preference. I would not recommend this loupe to a beginner or the weekend hobbyist but for gemology professionals it is one to consider especially if you can convince a loved one to get it as a gift… Hint. Hint.
#4 Schneider
Harald Schneider, is another historically significant name in optics and gemology whose family business created the first gemological microscope and other gemological equipment innovations.
The Schneider 10X triplet loupe features a 20mm crisp field of view, leather carrying case and neck strap. Some industry professionals will argue that these are the best loupes on the market. Another loupe hitting the $400 dollar range is not one I would recommend to gemological newbies or the weekend rockhound.
Schneider and Zeiss loupes have been long time diamond industry standards. Prior to Smith Axe's loupe arrival to market Schneider loupes were the coveted loupes to break the bank account for. Some don't find that they can see a significant difference in optical quality when comparing the Hawk to the Schneider. According to a report by the Fancy Color Research Foundation the newer Schneider L2 "exhibits a purple tint" so it is not the best choice for grading colored stones. While their older model L1 does not have this issue.
Schneider loupes are nothing to sneeze at. They are a superb product with excellent optics all be it on the expensive side.
#3 Nikon
Nikon has a great reputation when it comes to camera lenses, so it comes as no surprise that they make a quality 10x Triplet loupe. The Nikon Loupe is similar to the Zeiss loupe in many ways. The housing is plastic and the field of view is 13mm, but the Nikon also offers a large enough eyelet for a lanyard that the Zeiss loupes lack.
All in all the Nikon 10X Triplet Loupe is a durable sturdy loupe that would be good for the hobbyist to professional indoors and out. Coming in around $80 bucks this a good price for a quality loupe.
#2 Bausch and Lomb
Another recognizable name synonymous with quality optics is Bausch and Lomb. The Bausch & Lomb loupe known as the Hastings Triplet has been a long time favorite amongst gemologists. It has a plastic housing, nickel plated frame, and a 15mm field of view. The cost for this loupe comes in just under 50 in most places.
Beware of fakes. Make sure the loupe says Bausch and Lomb as there are several "Hastings" loupes on the market. As mentioned above Hastings refers to the lens design. This loupe does not come with a case but does have a place to attach a lanyard. The Bausch & Lomb 10x Hastings Triplet is a great loupe for the price and good for many applications.
The BelOMO 10X Triplet is a clear favorite amongst industry professionals and hobbyists. While the BelOMO 10X Triplet has an actual larger field of view at 21mm than the Bausch & Lomb at 15mm, some users note that the actual field of view with out distortion is about equal, around 15mm between the two.
The BelOMO is a much larger loupe made of black-coated metal. This loupe is on the heavier side; which make it a sturdy choice for rockhounds. While the loupes price may seem to good to be true for a quality loupe it is not the case.
The lenses in the Belomo 10X Triplet are of exceptional quality for the price. Another nice feature is the detachable lanyard making it easy to remove the loupe without strangling yourself. This loupe is an excellent choice for in the field, at the bench or in the showroom. With this loupe you are getting the best bang for your buck.
Check the prices on Amazon below or your local jewelry supply stores.
Show your loupe love in the comments – which is your favorite and why?