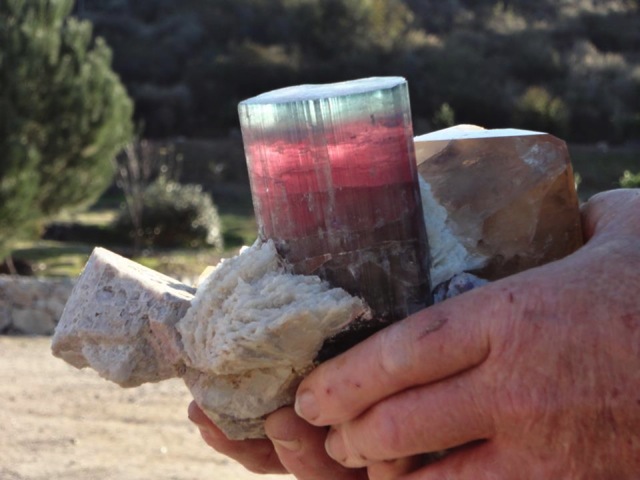 Gemstone Smorgasbord and Gorgeous Views at the San Diego Mines
Featured Dig Your Own Gems Destination: The Oceanview Mine and Pala Chief Mine, Pala, San Diego County, CA
The Oceanview and Pala Chief mines are where gem junkies dreams come true. Two mines to dig, a miners inn, an awesome mineral laden t-shirt line, and of course – keep the gems and minerals you find. When you visit these San Diego mines you are also visiting a place of gemological historical significance. 
The San Diego mines are located in the world renowned Pala gem mining district. This area is rich in mining history and of course minerals. Gemstone and gold mining was established in southern California in the late 1800's with notable discoveries of pink tourmaline followed by kunzite and morganite in the early 1900's.
The Empress Dowager Cixi of China; a gem junkie in her own right became obsessed with pink tourmaline from the San Diego mines. This sparked a major boom in export of the gem to china between 1902 through 1910 which later dissipated due to the death of the Empress.
Tiffany & Co (maybe you have heard of them) played a colossal role in the arrangements between the San Diego mines and China. Tiffany's gemologists were also paramount in the identification and naming of the kunzite and morganite discoveries in San Diego.
This area has been ripe with mines over the years; however, few are active today due to difficult mining regulations for small scale miners in the United States.
The Pala Chief Mine is the oldest working and producing gem mine in San Diego County first noted in 1903. The development of the Oceanview mine only started in 2000, both of these mines are owned and operated locally.
What You Should Know Before You Visit These San Diego Mines
Now that you're itching to find some Pala tourmaline, kunzite, and morganite and a plethora of other minerals there are some important things to keep in mind before planning your trip.
Choose Your Adventure
First, this is an actively working underground private mine that is not open to drop in visits. Reservations to dig at either of these mines is an absolute must. This can be done through their website digforgems.com and should be done a week or two in advance to make sure there is space.
Follow the rules, have your paperwork printed, and arrive on time! There are bathrooms on the property and a covered picnic area so pack a lunch, water, and sun screen – gloves aren't a bad idea either. Hopefully this goes with out saying but do dress appropriately for the weather and digging in dirt.
You can check the pertinent dig info for the Oceanview mine here and the Pala Chief mine here
While both mines are located on the same expansive property each offers a different experience. Plan accordingly.
The Oceanview mine offers a fun family friendly digging experience. The fee to dig is $60 bucks for Adults and $50 for kids under 12. Everything you need for the dig will be provided and everything you find is yours to keep.
The miners create a dump pile to fill your bucket from. Check out the video below to make the most of your gem hunt.

Bring a 5 gallon bucket of your own. You can take a bucket of material home with you to sort through later.
The knowledgable staff will show you the ropes and take you on a tour of the mine as well as the property where you can take in the gorgeous views and even see some other historical Pala mines in the distance.
The Pala Chief mine offers a more authentic mining experience. The dig fee is $75. You will need to bring your own gear. Nothing will be provided.
There are multiple mine dumps to explore – some old and new. You will even have the opportunity to work on some pegmatite provided you bring the right tools. None of the material at the Pala Chief mine has been sorted so you may have better luck finding unique and larger specimens.
Digging at the Pala Chief is not suitable for children under 12.
Where Should I Stay?
After a long day lugging dirt and searching for shiny pretty things – if you planned your trip accordingly then you are staying at the Miners Inn Located on the property.
The Inn is available for weekend stays for up to 4 people. Starting at $500 for the weekend you will get a guided tour in the mines and receive a discount on the digs. Remember to reserve your dig and stay together.
While planning your trip it is important to bear in mind that this is an active mining property. Schedules need to be adhered to. Stays at the Inn and digs at the mines are available on a limited basis. Do yourself a favor and visit digforgems.com and review all of the info available.
The Oceanview Mining company has not only created a once in a life time digging experience for everyone at any skill level; but also created the best line of rockhound t-shirts I have ever seen.
Here are some of my favorites.
Not in the San Diego area and a trip there is not in the cards anytime soon?  If the itch to dig in their dirt is keeping you up at night have no fear – You can actually have a 30 pound bag of Gem Ore shipped to your house!
Happy gem hunting. We would love to hear about your experience at the mines and see your discoveries. Get in touch and say hi on facebook.