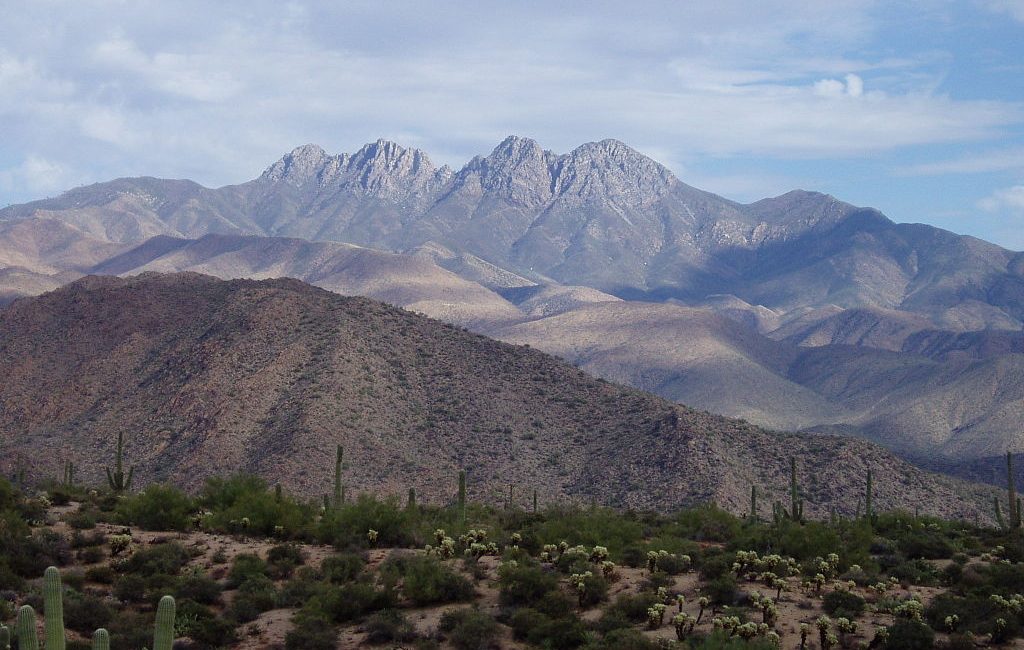 A Helicopter Gemstone Adventure Awaits at Four Peaks Amethyst Mine
Featured Dig Your Own Gems Destination: Four Peaks Amethyst Mine, Maricopa County, Arizona
Killing two bucket list items with one gemstone:
Dig for treasure ✔
Helicopter Ride ✔
One of the most exclusive gemstone adventures available in the United States is a tour of the Four Peaks amethyst mine by way of Helicopter. This mine is off limits to the public without making proper touring arrangements well in advance. Getting to this giant geode 90 feet underground is a rockhounds dream.
Nestled in the famed Four Peaks of the most rugged part of the Mazatzal Mountains; just forty minutes or so north of Phoenix, AZ, is a commercial amethyst mine. The mine is located between the 3rd and 4th peak. This mine has been in operation off and on since the early 1900's and produces some of the worlds finest Amethyst ranging from deep purples to violets with a red undertone.
Owing to its difficult location the Four Peaks amethyst mine runs a rustic operation even today. There is no running water or electricity at the mine and all of the mining is done by hand. The miners take a grueling 9 mile hike round trip to work and live at the mine a couple weeks at a time.
What is Four Peaks Elevation and How Do I Get There?
At a cool 7200 feet in elevation getting to and from the mine is no easy feat. While the miners do an all terrain drive through the mountains followed by a serious hike; access to the mine is only granted to pre arranged tours a few times a year. Hiking there yourself is a no go! It is a private property.
Helicopters are the only way to get supplies to and from the mine, and of course get all the good purple stuff out.
Fortunately for gem adventurers, the owners of the Four Peaks Amethyst Mine do allow a limited number of visitors to tour and dig for gems.
Unfortunately, since this mine is a private commercial mine in a remote location getting there is a hurdle, but where there is a will there is a way…
Sami Fine Jewelry of fountain hills offers just such a way. Not only is Sami Fine Jewelry one of the few exclusive fine jewelers that makes jewelry with Four Peaks amethyst, but they also take guests on a helicopter tour of a lifetime to the Four Peaks Amethyst Mine.
Due to the mines remote location and lacking of modern day luxuries the tour is only offered a couple times a year – during the spring and fall. Space is very limited and the $395 tickets for this adventure sell out fast.
The Sami Fine Jewelry, Four Peaks amethyst mine tour includes transportation to and from the helicopter pad, helicopter ride to the mine, one and half hour tour of the amethyst mine with the miners and mine owner, Four Peaks amethyst to keep, and lunch!!! Check out their video below!

Video courtesy of Sami Fine Jewelry
You can check out additional tour pictures and videos here
If you are looking for something a little more intimate a private helicopter tour for up to 5 people can be arranged for $2500. According to the Four Peaks mining site all you need to do is give Captain Carl of Arizona Heliservices a call.
Can't Make The Trip But Still Want to Snag Some Four Peaks Amethyst Jewelry
Don't fret if a helicopter ride isn't your bag but you love amethyst jewelry there are a few jewelers lucky enough to get the good stuff from the mine to share.
Gem quality amethyst from the four peaks amethyst mine is considered some of the best in the world. It is also quite rare. Considering it is only mined by hand and a couple thousand pounds of ore can be shipped out by helicopter. Only a fraction of it is gem quality.
After the amethyst is extracted it takes quite a journey. Making its way from the Mazatzal Mountains via helicopter to Scottsdale for cleaning, then off to a gem cutting hub in Thailand, and back to Arizona to be sold by a few select jewelers.
Check out some of the exquisite Four Peaks amethyst jewelry here!
I am partial to this piece since it mimics the look of a geode with the pave design.
Tell us about your gemstone adventures and say hi on facebook.