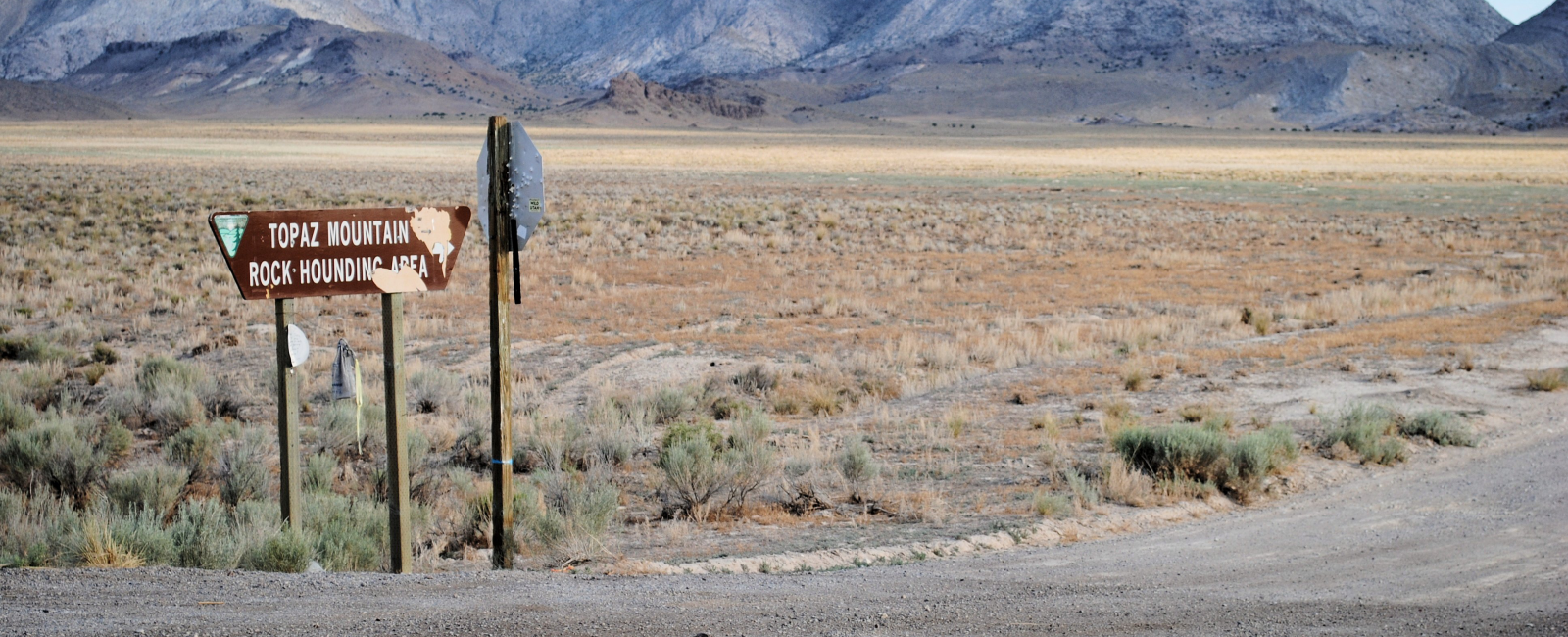 Have A Blast Literally With Topaz Mountain Adventures
Featured Dig Your Own Gems Destination: Topaz Mountain Adventures, Juab County, Utah
Gem hunters with a flair for adventure look no further. Topaz Mountain Adventures has you covered. You choose your own adventure and keep all the topaz you can find.
Topaz Mountain, located in the Thomas Range of Juab County, Utah is a well known hot spot for rockhounds. There are many minerals and gems to be found due to significant geological events of the past.
Topaz was named Utah's state gemstone in 1969; owing to the rich topaz deposits throughout the state, especially on Topaz Mountain. It is typical to find clear topaz crystals in this area; however, most of the topaz is within vugs (cavities) in rhyolite (an igneous volcanic rock formed during a volcanic eruption approximately six million years ago). It is primarily a sherry/amber color when first exposed from the rhyolite. Sun exposure or UV radiation will turn the sherry colored topaz clear over time.
Part of Topaz Mountain is on BLM and school trust land and is only open to rockhounding of the most basic nature – hand tools only and you are on your own in the desert.
You may find clear topaz crystals and other minerals scattered about the mountain, but the sweet spot for quality specimens, blasting, and hands on guidance is on a private claim. Lucky for you Topaz Mountain Adventures opened their private mining claim for fee digging! They offer several different tour experiences to fuel your gem hunting spirit.
If you want to see the mountain blasted right in front of you – from a safe distance of course, they have a tour for that. If you want to wander around the claim and collect on your own theres a tour for that too. Topaz Mountain Adventures offers a bona fide prospecting experience on a mining claim that has been active since the early nineteen hundreds.
Lets get into the adventure shall we.
Choose Your Own Adventure
If you are looking for the ultimate prospecting adventure and are willing to put in the hard work then one of the blast tours is for you. If you are more the wanderer type then the prospector pass is up your ally. I say go big or go home and do the blast tour. It is a unique opportunity.
Below is info about each pass from blast to prospector. For more detailed information head to the Topaz Mountain Adventures website topazmountainadventures.com.
Public or Private Blast Tour – You will get to see the drilling and blast into fresh rock. You will have exclusive access to the freshly blasted rock. Staff will provide hand tools and have power tools on hand to help split the rock. You keep everything you find.
Private tours can accommodate one to eight people and can be scheduled any day except major holidays and previously schedule public tours. The private tour will cost $599.00, and it will grant you access all day. This is a great option for family and friends or just you if you aren't the sharing kind.
Public tours are only offered on select dates and have limited availability. You will be sharing the freshly blasted rock with other people in the group but all the other perks of the blast tour remain the same. Passes for the public blast tour range from $45-$95 for individual passes and $399 for a family pass.
Self Guided Prospector Pass – If blowing up stuff isn't your thing or you just want to have an easy day rockhounding then the self guided pass is for you. This pass gets you access to the private claim on days when no tours are scheduled. You will be able to dig through previosly blasted rock with your own hand tools. No staff will be available. An individual prospector pass costs $25, weekend passes are $40.00, family passes are $40.00, and family weekend pass are $65.00.
What You Should Know Before You Visit Topaz Mountain Adventures
Before making your topaz digging dreams come true there are some things you should consider when planning your trip. Topaz Mountain Adventures offers a genuine prospecting experience for any skill level; however, it is not for people with limited mobility.
The claim is located in a very remote area with no facilities of any kind. Be prepared with everything that you will need to spend the day in the desert. Bring lots of water. The nearest town is about an hour from the mine. While there is an option to just surface collect on the claim; the other tours are labor intensive, especially if you want to find the good stuff.
Visitors are able to park about 50 yards from the quarry. The walk to the entrance of the quarry is over the tailings from the mine. Wearing long pants and hard soled shoes or boots is advised. Dress appropriately for the weather and splitting rocks. A hammer and chisel are provided for the blast tours only. Bring buckets for your stash, gloves and knee pads for comfort.
Digging for topaz is fun for the whole family; however, children aged seven to thirteen must be supervised by an adult and children six and under are not aloud in the quarry. If you do have young children or people with limited mobility in your group; they can hang by the parking area, and someone from your group can bring rock from the quarry for them to work.
This is a private mining claim. Make appropriate reservations before you access private property, it should go without saying. You can purchase and reserve your adventure directly through their website. All passes will grant you access for an entire day.
You can reserve your spot all year long however the best times to go are from March to June or late August to November. As long as weather permitting they can get to the mine they will take you in. Check out their website for available public tour dates or schedule a private tour around your schedule.
There is a gifts shop on their website as will with some lovely handmade jewelry.
Happy topaz hunting. We would love to hear about your experience and see your discoveries. Get in touch and give us a shout on facebook.